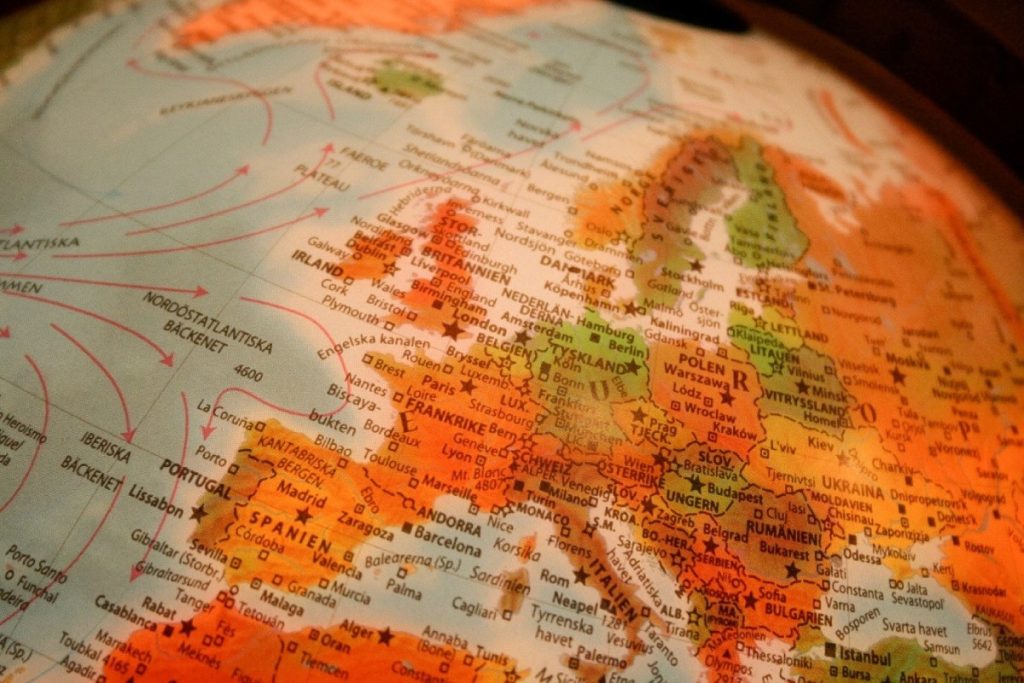 The European E-learning Institute (EUEI) is committed to providing high-quality learning experiences and innovative educational programmes which engage learners from a range of sectors and socio-economic backgrounds. EUEI is committed to promoting social cohesion, inclusion, and sustainability across Europe, making them a perfect fit for the Digi Work Well Project.
Our experienced team of trainers, researchers and technical experts are uniquely placed to guide educators from VET, HEI, Adult and Youth sectors to harness the opportunities that innovative and collaborative e-learning and digital tools offer for learners.
We specialise in the delivering of high quality, responsive and innovative projects to educators and learners in the topics of pedagogic approaches, entrepreneurial competences, digital skills, inclusion, and sustainability.
---
Meet the team at EUEI working on the Digi Work Well project
Canice Hamill- Managing Director
Canice has worked in the field of lifelong education for over 20 years and is recognised as an expert in instructional design and the development of e-learning solutions for education and training. A former trainer and lecturer, Canice utilises a holistic approach to creating innovative, interactive learning environments and works closely with tutors, trainers, and development teams, emphasising the importance of empathy and user experience in every learning solution.
Our Logician -Innovative Inventors with an unquenchable thirst for knowledge
---
Catherine Neill- European Project Manager
An experienced EU project manager, Catherine is an integral member of our team. She is an effective communicator and has a strong background in areas of Inclusion. The oldest of 5 children Catherine quickly learned how to lead the pack, utilising organisational skills alongside her passion for helping others, she is committed to making the world a more accessible, sustainable, and friendly place.
Our Protagonist -Charismatic and inspiring leaders, able to mesmerise their listeners.
---
Aine Hamill- European Project Officer
Aine plays an important role in the learning design and subsequently in evaluating the effectiveness of our eLearning products on completion. Aine is always keen to engage with her creative side and implement the newest digital tools, pedagogies, and trends into our e-learning solutions. She is passionate about finding effective and relevant ways to engage learners from all walks of life.
Our Defender-dedicated and warm protectors, able to implement ideas and "create order from chaos".
---
Including our key role in the initiation of the Digi Work Well project we will also work tirelessly alongside our project partners to deliver the highest quality project results as possible. Within the project EUEI will develop the project website and be responsible for the technical realisation of the materials.
Learn more about EUEI here:www.euei.dk
So what is it about workplace communication in the digital age that causes high stress levels and feelings of anxiety? Let's take a look at some of the specific challenges that come with collaborating with colleagues and supervisors from behind a screen, along with tips from experts on setting boundaries for your mental health.
With the switch to new technology to facilitate conversations, the boundaries between our professional and private lives have broken down. A worker doesn't have to be in the office for their boss to call them in for an unexpected meeting—they could be cooking dinner or tucking their kids into bed when they get a request. And that feeling of needing to be "on" 24/7 can be draining. The pressure to check and respond to emails outside of traditional work hours, for example, can start to add up, affecting one's work-life balance.
Plus, the speed of digital communications can make workers feel that every message they receive requires an immediate response. Researchers have found that when a worker receives an email after business hours, they tend to overestimate how quickly the sender expects a response. The phenomenon, dubbed "the email urgency bias," has been linked to lower feelings of well-being and higher levels of perceived job stress.
Even during business hours, the experience of basic communication with coworkers has been reduced to endless back and forth on Slack or another internal communications platform. Rather than having conversations on projects in person as you would in the office, everything is sent via instant message, which adds a whole new layer of complexity. So rather than walking over to someone's desk in person to quickly talk out a problem, it turns into a long-winded back and forth.
For a deeper look at the challenge of work place digital communication, follow link to reference below:
https://www.verywellmind.com/why-digital-communication-causes-stress-at-work-5204936
Over time, information pollution or the exposure to multiple environmental sources of data leads to the overstimulation of the brain. Neurons get overloaded with data, numbers, deadlines, targets to be met, projects to be completed or simply useless details, and all this unnecessary information can ultimately destroy them. Consequently, a stressed and overloaded brain is at high risk of dementia and other neurodegenerative disorders (Parkinson's and Alzheimer's diseases).
As if the information we are forced to deal with at work is not enough, we read irrelevant news, magazines, online posts, exposing ourselves to an informational attack. All these scatter a certain general anxiety about the human brain's ability to deal with so much information when we are sensitively limited.
Although being informed is never bad, the overstimulation of the brain can have the reverse effects. In other words, instead of becoming smarter, our brain's ability to learn and engage in problem-solving thinking will decrease.
Everything must be done in moderation and so should the absorption of knowledge. Otherwise, it can severely affect our mental and physical well-being in the following ways:
Increased blood pressure
Low mood or energy
A decreased cognitive performance which ultimately affects your decision-making skills
Finding it difficult to concentrate
Impaired vision
Diminished productivity
Strong compulsion to check emails, apps, voice mails, etc.
Insomnia
Vivid dreams
Tiredness
All of these are symptoms of digital overload! Now you know the signs, you can start to be more mindful of your thoughts and actions in terms of digital usage and its impact on your physical and mental wellbeing.
For a deeper dive into the phenomenon of digital overload, follow the link to the reference of the above information below:
What Shall We Do to Avoid Information Overload?
We are undoubtedly curious and hungry for information as it is easy to access anytime and anywhere. Whatever idea pops up into our mind, we want details about it and we check as many sources as we can.
But knowing the risks we expose ourselves to, we should opt for strategies & solutions that will ensure a normal function of our brain.
1. Filter the information
Read and listen only to the information you consider useful for today or if it enriches your knowledge. Otherwise, ignore irrelevant information like news, gossips, talk-shows, etc.
2. Select the sources
It is always great to hear different opinions, but more does not mean better or truer. Select only the reliable sources and stick to them.
3. Set limits
Is it really necessary to read the news every morning or update your posts daily on Facebook? Set some time limit and do not spend more than 10 minutes a day checking your social media or the gossip you hear about your favorite celebrity.
4. Prioritize your activities
Some activities are more important than the others. Do not overload your schedule with plenty of activities that require your maximum attention. First, finish the most important one and if time allows, do the others.
5. Choose your conversations
Some people can leave you emotionally or mentally drained. Some may like to talk too much and give you as many details as possible while others will simply pass their problems to you. Your time and energy are limited, so spend them wisely.
6. Refuse
If some tasks are out of your league or you feel like drowning in work, do not be afraid to refuse. An extra amount of work will reduce the efficiency and quality of your cognitive performance. This, in turn, will not bring the results you expect.
7. Spend some time alone
What else can refresh your brain better than spending some time alone? Give yourself a break and put your thoughts into order by simply doing nothing, away from the noises, Internet and people.
References:
https://www.huffingtonpost.com